Joe POLILLO[r] (shown w/his late brother John)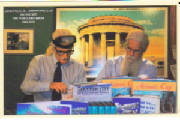 presented POSTCARDS of Atlantic City [story below]
Joe's brother Tony with Joe DiMaggio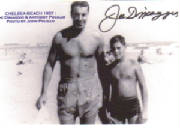 one of Joe's postcards displayed at his talk [see next]
At our General Membership Meeting of last April 10th 2007, we were entertained by a talk given by Joseph PILILLO, on "POSTCARDS of Atlantic City" [2 shown above] -- a very interesting presentation, with great humor, and enlarged samples of his collection. See many more on the website [click]> http://www.thepostcardshow.com/main.htm
Our annual March "COVERED DISH DINNER & SHOWnTELL" event was held on March 13th 2007, at the Church of the Resurrection in Marmora. As usual, it was enjoyed by each and every attendee. Many interesting artifacts made their way from attics and cellars, to be admired by all. We hope to have the latest pictures available for publication on this site in the near future. Meanwhile, please enjoy browsing the rest of our presentation.
Our 6th Annual AppleFest, was held at the Gandy Farmstead [see MAP bottom center] on October 1st, 2006, altho weather had us worried early on. A record-breaking crowd enjoyed our restored/replicated farmhouse, and outbuildings; our gift shop and the entertainment, demos, refreshments, contests, games, music, exhibits and displays, arts and crafts. Johnny Appleseed made an appearance. Enjoyed snacks, refreshments, beverages, BBQ, and more.
Those award winning pies were out of this world.
F.Y.I.: "Oktoberfest" = An annual German harvest festival period, is traditionally celebrated beginning on the next-to-last Saturday in September ~ and lasts for 15 days ~ through the first Saturday in October. [This year, 2007 it's: 9/22-10/6]



Among the many HPSOUTNJ bus trips (rambles) have been:
- - - - - - AND THERE WERE MANY OTHERS !!
The 12th Annual Christmas in the Country, by GTAMA in Tuckahoe, took place at the Station House on Sat., Dec. 2rd, 2006, - 9am-4pm - HPSOUTNJ sponsored a booth in the Train Station across the street.
The Society's Annual Christmas celebration was a Luncheon on Tue., December 12th, 2006 -- at the Seaville Tavern.
Christmas Open House was held at the Gandy Farmstead on Sunday, December 17th, 2006.
Kirk Hastings regaled us with his PowerPoint presentation at our May 8th, 2007, meeting. He showed slides of over 100 facilities in the DooWop architectural style. His book and DVD contain all that information and more. His delivery was enjoyed by all, he being an excellent speaker, who truly lived his subject!



Held last JUNE 3RD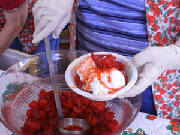 NJ's Best Strawberry Shortcakes
Our 18th Annual Strawberry Festival and Craft Show was held on Saturday, June 9th, 2007, @ the John Wesley Gandy Farmstead, 26 Tyler Road. While this event was relocated this year, the turnout was a success, providing our 3rd best fund-raising revenue in its history. Everyone enjoy delicious fresh Strawberry Shortcake, Ice Cream, light lunch, beverages; browsed among craft booths, and toured the restored historic complex. [See pictures of previous events on MEMBERS' page]
A new shipment of old-fashioned Christmas toys is available at the Gandy Farmstead Museum/Gift Shop. At our next open house, come browse and shop -- or call 609-390-5656 for an appointment -- select some truely unique gifts here.
Regular Meeting in Session - Held 2nd Tues. of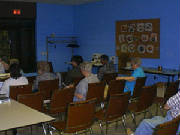 Mar Apr May Sep Oct Nov / UprTwp Library
General Membership Meetings begin with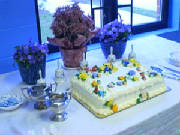 Social Time at 7:00pm / Business starts at 7:30